Once in a lifetime a discovery like this happens to a dealer.
We've often discovered pieces in the store that have famous cabinetmakers marks- that's always exciting. But to find a whole cache of furniture with a Provenance of international appeal is something very different.
This story begins with my Spring trip to Paris of 2019.
While poking around the cavernous subterranean dark and dank musty smelling lower levels of a well known professional antique dealer's building full of less- than- above -board independent dealers, I discovered a room full of interesting, old and decorative furniture, unlike anything I had seen before.
There was a mix of everything from tables, cabinets, commodes. Pieces from the 1500's to the Mid 20th Century.
When I showed some interest in the furniture the dealer mentioned they were owned by Coco Chanel. With scepticism, I bought the pieces anyway disregarding the alleged provenance and had everything shipped to Vancouver.
The day the shipment arrived I started looking at the tags that were affixed to the pieces many with labels referring to Chanel and various rooms and dates. Some back as far as the 1500's.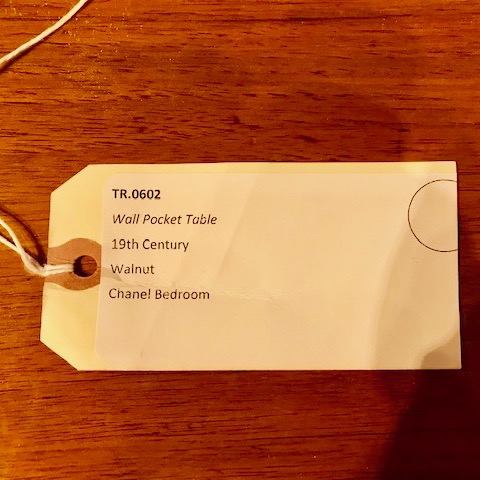 I mentioned to Gareth, my manager that most of you know, that the dealer said all these pieces were once owned by Coco Chanel.
The probability of anything with this provenance ending up at the Antique Warehouse was so remote that neither of us gave it a second thought.
In any event, that evening I started researching residences of the famed Mdm. Chanel and discovered that in 1934 she had built a Villa in the South of France with her then-lover, The Duke of Westminster. I had known of her apartment on Rue Cambon, and also in the Ritz Hotel, (something I hope to have one day) but didn't know she'd also owned a Villa.
The Villa was exhibited on many real estate websites and as I continued to browse more and more of our pieces began showing up in various rooms.
Bursting with excitement I texted Gareth at 10:30 at night and sent him links to the various rooms of the Villa. Neither of us could believe what we saw.
We actually had pieces from this important historical Villa with such a rich and fabulous provenance.
The story goes that in In 1934 Coco Chanel (Gabrielle) and the Duke of Westminster ( a notorious womaniser) met at a party in Monte Carlo and started an affair that lasted 10 years.
During this time, the Duke, being one of the richest men in the world bestowed gifts and precious jewels on his mistress Chanel one being a parcel of land near the border of Italy in Roquebrune Cap Martin. On this parcel Chanel built her villa and furnishied it with pieces of furniture given to her by the Duke, and purchases of her own. They built it carefully together importing only the best of everything for their romantic South of France home.
Much of the furniture were English period pieces from the 16th Century up to fine pieces of the late 19th and early 20th. The villa was host to some of the most famous literary and artists of their generation including Salvador Dali, Jean Cocteau, Pablo Picasso, Igor Stravinsky, Winston Churchill and more.
The immediate problem I had after the initial elation and exhuberation of the find, was what to price all these things for.  In actuality they belonged in a museum, or a private collection.
After all, these were owned by two very famous set of owners, Chanel who then sold the Villa to the Reves, ( a prominent publisher and author and his model wife), who were just as famous in their own right.
Both sets of owners entertained lavishly with some of  the worlds most famous people of their time.  Jacqueline Kennedy, Rose Kennedy, Princess Grace, Clarke Gable, Greta Garbo, the list goes on and on. But the most famous of all their guests was Sir Wintston Churchill.  He would stay for months on end with a whole private floor, a bedroom for his wife and one for his butler.
In a 2018 auction in Paris, items from Coco Chanels apartment at the Ritz commanded unprecedented prices unlike anything seen before.
https://www.architecturaldigest.com/story/coco-chanels-desk-was-the-highest-selling-item-at-the-ritz-pariss-record-breaking-furniture-auction
In any event, this has been an exciting journey for me and the staff.
The most difficult part was how do we price these pieces?
With provenance like this, they really belong in a museum.
In fact, some pieces did go to a museum in Dallas Texas to be on display for all posterity.
The second owner's widow died in 2015 and bequeathed her entire collection (rumor has it under influence of alcohol and pressure from the Dallas museum officials) of priceless Art and some of the furniture from the Villa. There is a 6 room replica of the Villa in the Dallas Museum filled with furniture and replicas they created.
She also bestowed most of her fortune to the Museum which was contested by her son.
In any event pieces have been flying out the door to collectors to people with a fascination of Gabrielle Chanel.
One day, I hope to discover a hidden masterpiece or Faberge egg on my hunts throughout Europe, but for the time being this has been pretty great.
Thanks for reading.
Mark