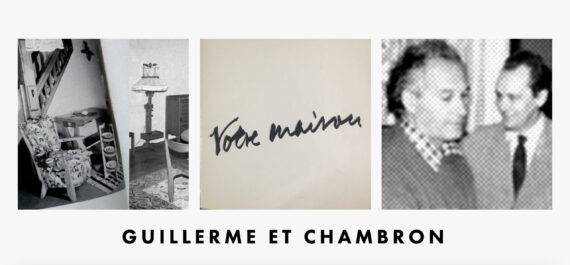 GUILLERME ET CHAMBRON
The duo of Robert Guillerme and Jacques Chambron and their company, Votre Maison denote a landmark of French mid-century design history.
Robert Guillerme studied design and architecture at the École Boule, graduating first in his class in 1934. After the Second World War he moved to Lille, in the north of France, where he decorated homes and designed furniture for the well regarded Rogier workshops. Meanwhile, Jacques Chambron graduated from the School of Applied Arts in Reims.
The two met in 1940 while imprisoned by the Germans in East Prussia and bonded over, among other more obvious things, their shared passion for design. In 1948, Chambron left his work as a painter and decorator on the Rue Nollet in Paris, and relocated his family to join Guillerme. In 1949, the pair discovered Émile Dariosecq, a master cabinetmaker who had a shop in the city, and was willing to produce their designs. The three started Votre Maison. The association was destined to be as influential as prolific. Not only did Votre Maison produce over two thousand models during the latter half of the twentieth century, it also left an indelible stamp on the design of the 50s, 60s and 70s. The company's output served as a model for a vast field of liveable contemporary design.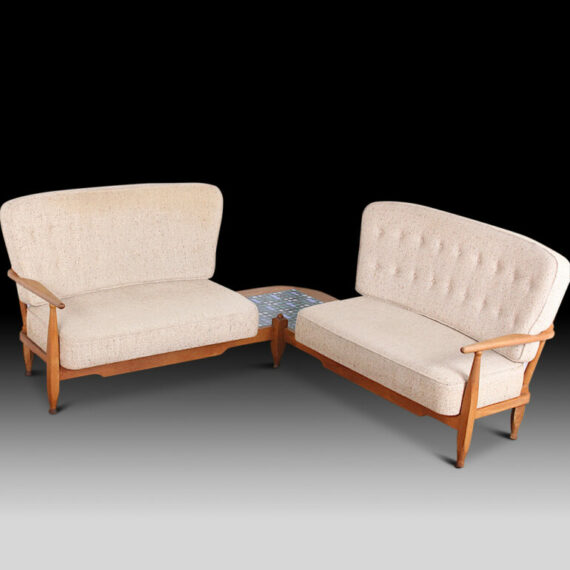 This corner sofa, C.1960 is available at the Antique Warehouse, Vancouver, B.C. Canada
The soul of Guillerme et Chambron's work was in the company's name ("Your House"). Their focus was as keenly attuned to functionality as to the creation of innovative design. For the pair of designers, the home was envisioned as a place where the family could live both comfortably and in aesthetic harmony. Robert Guillerme, who designed most of the work, possessed a limitless creative ambition, producing designs for everything from grand dressers and sideboards to the smallest elements of a space, such as pedestals, shelving, benches, and lighting. This steady output of beautiful furniture bucked convention not merely in the equal emphasis Guillerme placed on function and aesthetics, but in the almost paradoxical creation of a consistent style that was as staid as it was arresting. While his work was in many ways distinctively conservative and recognizable from project to project, both in form and in medium—his wood of choice, waxed oak, was often either lightened or darkened to the same few tones—Guillerme's pieces also possessed an unusual flare. He incorporated elaborately detailed tiles and unusually bright fabrics, both of which could be used interchangeably in a variety of pieces.
Jacques Chambron focused on décor and client relationships. Working with stores and individuals alike, the decorator filled homes throughout Europe with small and intimate lines of furniture created to address each room's particular and varied needs. He was a remarkably charismatic man, unusually befitted to the work, and amply capable of evangelizing Votre Maison's unique and ground-breaking conception of décor. Together, they defined new furnishings concepts. Well-crafted chair backs, polished wood and thick cushions make the reputation of their armchairs and sofas. Votre Maison continued to produce furniture right into the 20th century, with Jacques's son Hervé Chambron, a designer and graduate of the École Boulle, having taken the over in 1983.
Guillerme and Chambron's furniture and design is highly sought after today and commands high prices on luxury websites like 1st. Dibs.
Thanks for reading,
Mark